"Progress M" fell into the Peruvian jungle?
August 31, 2011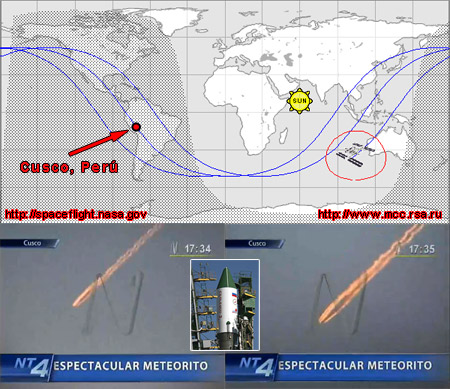 The Peruvian military for several days have been actively seeking a "space object" that crashed in the difficult to access outskirts of the Cusco city. The comments of the national mass media noted that the "object" was a large meteorite or "extraterrestrial device" (UFO). For this region of Peru, as well as for the entire zone of the Andes Mountains, the emergence of "unidentified flying objects" is a frequent phenomenon, but the present case is remarkable in the fact that it was accompanied by strange sound and light effects. Thousands of people saw the fall of the "UFO". "This has never happened before, - said one of the witnesses, - many of us were panic-stricken." That is why the mountain-wooded neighborhood of Cusco has been examined by military helicopters and commandos units.

But there is another reason for the deployment of intensive search of a suspicious space object. The Peruvian authorities have been warned by a "certain friendly government" that "most likely" the debris of the space truck "Progress M-12M" have dropped on the territory of the country. It was launched from Baikonur on August 24 this year, but, due to the reasons that have not yet been clarified, the truck never made for the desired orbit. The attempts to find fragments of "Progress" in the Altai Mountains have been unsuccessful. A "meteorite", which caused so much noise in Peru, was recorded on August 25, and its trajectory, according to Peruvian experts, was virtually identical to the approach trajectory of the cargo spacecraft to the ISS. It may be noted that the fall of the "Shuttle" in the U.S. in 2003 was accompanied by exactly the same visual and audio phenomena as the mysterious "Peruvian Meteor".

Peru commandos should hurry up. Otherwise, local Indians will ransack the debris of "Progress" for utility needs. Sooner or later, but the civilization comes to the most remote corners of the planet.