The CIA is on the attack in Argentina. Who will be its next victim?
April 6, 2015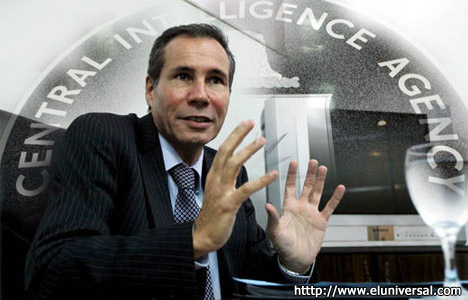 By all indications, the investigation into the reasons and circumstances surrounding the death of Argentine federal prosecutor Alberto Nisman is far from complete. His body was discovered on the night of 18 and 19 January on the tiled floor of his bathroom. A Bersa Thunder 22 handgun lay under the prosecutor's right hand, and an entrance wound from a bullet to the temple indicated possible suicide.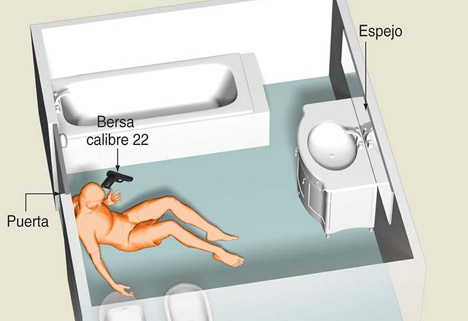 This version is being received with hostility in opposition circles, however, from where accusations have been ringing out that President Cristina Fernández de Kirchner and Minister of Foreign Relations Héctor Timerman were involved in the prosecutor's death. Nisman was investigating the 1994 terrorist attack on a Jewish cultural centre in Buenos Aires and was to report to parliament on his progress. He was killed the day before he was to address parliament, and many analysts regard it as an act of violence aimed at compromising the Argentine president. More often than not, it has been the CIA and Mossad who have been named as the masterminds and organisers behind the act.

Information has been leaked to the media that in his report, Nisman wanted to accuse Cristina Fernández de Kirchner of covering up Tehran's role in the terrorist attack. The prosecutor built his investigation on information received from Antonio Stiuso, who occupied leading posts in the Argentine intelligence agency (SIDE) up to the end of 2014 and was in close contact with CIA and Mossad station chiefs. Among other things, Stiuso obtained records of telephone conversations through these intelligence agencies that implied the Argentine government had carried out talks with Tehran on the exchange of grain for Iranian oil. Without questioning the authenticity of the records produced by the US NSA, the prosecutor argued that a key condition of the agreement between Iran and Argentina was the amnesty of the Iranians suspected of the attack and on the wanted list. It is highly likely that one can assume this hypothetical deal was an 'active measure' by enemies of Argentina in the US and Israeli intelligence services.

Several weeks before he was to address parliament, Nisman realised that the accusatory part of his report was suffering from a lack of serious evidence and would be impossible to use to put forward any convincing charges. The prosecutor once again tried to get out of a critical situation with Stiuso's help, but Stiuso no longer worked in intelligence and began to avoid contact with Nisman. Stiuso understood the reason for the prosecutor's panicked activity, in whom, at the behest of his mentors at the US embassy, he had spent many years instilling the idea that Cristina was playing her own secret game with the Iranians and harming the interests of the country.

Even Nisman himself could feel there was trouble brewing. He was afraid of assassination attempts: Nisman regularly received threats of violence over the phone and on his computer as well as kidnapping threats aimed at his daughters. As a consequence, he preferred to use an armoured vehicle with a special communication system provided by the US embassy when travelling to Buenos Aires and around Argentina.

Sandra Salgado, the prosecutor's ex-wife and a judge by profession, was one of the first people allowed in to Nisman's apartment where he died. She believes that her ex-husband was incapable of committing suicide. A week later, referring to an independent examination carried out at her request, Salgado stated at a press conference that, "Nisman did not commit suicide. It was not an accident. He was murdered."

Prosecutor Nisman, who was from a wealthy Jewish family, was known as a lover of the good life; in his electronic archive, investigators unearthed dozens of photographs of girls in compromising situations. The image of a crusader against the unlawful actions of the authorities in absolving Iranian terrorists gave the prosecutor a certain popularity: he was given support by NGOs patronised by US embassies, Western European countries and Israel, representatives of liberal professions, activists on social networks, the student community, and relatively influential Jewish organisations in Argentina. Anti-government sentiment in these circles was fuelled by media agencies belonging to the opposition media holding company Clarin. Mass demonstrations were held in Buenos Aires and a number of other major cities. People held aloft placards stating "I am Nisman", "We are all Nisman", and "Justice for Nisman". Television and radio reports were conducted live from the Plaza de Mayo in front of the presidential palace, and well-rehearsed chants against the government rang out: "Get rid of them all", "End Kirchner's dictatorship", and even "Cristina is a murderer".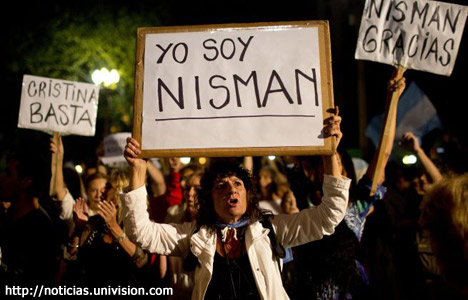 Nisman's death, however, has not had the effect on the Argentine people that covert operators were apparently hoping for. A Maidan uprising Argentine-style has not happened. The government has gone to a lot of effort to explain to the people that Nisman's death is only of benefit to Argentina's enemies. Events were organised to help subdue rebellious fervour. Posters with photographs of Nisman surrounded by girls of questionable character were pasted up in Buenos Aires with the caption: "Are you also Nisman?"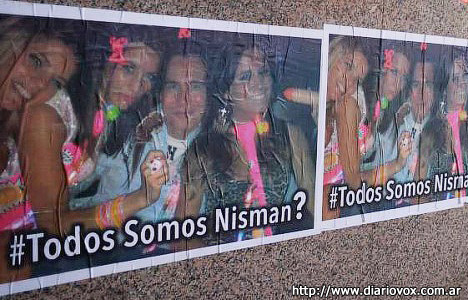 * * *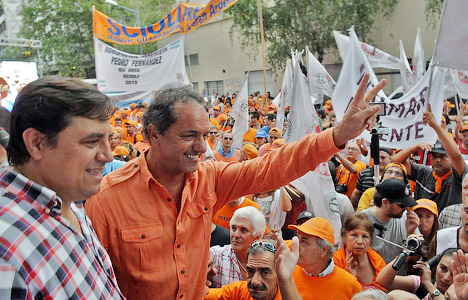 The subversive activities of Western intelligence agencies in Argentina are still going on and will peak during the election campaign in October. According to the constitution, Cristina Fernández de Kirchner cannot run for a third presidential term. Her successor, Buenos Aires governor Daniel Scioli, has a serious chance at victory. His main rival will be Mauricio Macri, the leader of the centre-right political party Republican Proposal, who is in favour of a rapprochement with Washington, of distancing Argentina from the countries of the Bolivarian Alliance, and is against Argentina's further slide towards China and Russia.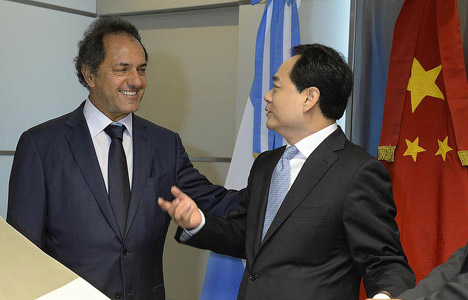 The US embassy has become more active in Argentina and the CIA station has switched to a tighter work schedule. Cristina Fernández is a powerful politician and her uncompromising character is the envy of many male presidents in Latin America. It is therefore not improbable that her opponents are once again trying to resort to political assassination as a radical way to destabilise the country. Discussions are underway on internet forums and social networks regarding prospective candidates for elimination.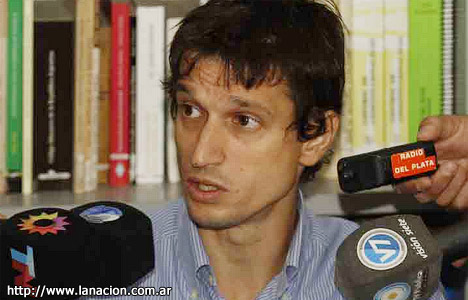 The name Diego Lagomarsino is often heard, an information specialist who ensured the safety of Nisman's electronic equipment and that of his team, who had if not a friendly relationship with Nisman, then at least a relatively close one. They had a joint bank account in the US and it was Lagomarsino (allegedly at the prosecutor's request) who gave him the Bersa Thunder 22 handgun that was later discovered next to his body. Theories that it was Lagomarsino who murdered the prosecutor (he was the last person to visit Nisman at his apartment) are constantly being circulated in the media. Lagomarsino knows much more about the affair and the prosecutor than he told investigators when questioned. He was introduced into Nisman's inner circle by a retired SIDE operative and there is evidence that the operative and Lagomarsino himself have links with the CIA. If they talk, then the investigation into Nisman's death will become critical for the CIA station.

Another candidate for elimination is Antonio Stiuso, a veteran of Argentine intelligence. The country had no secrets from him: secret service and electronic information came through various channels and he has incriminating information on leading Argentine politicians. He was also kept well-informed about the many operations of the CIA and Mossad aimed at undermining Cristina's position and his testimony could cause irreparable damage to that well-oiled system of espionage and influence that serves the state interests of the US and Israel.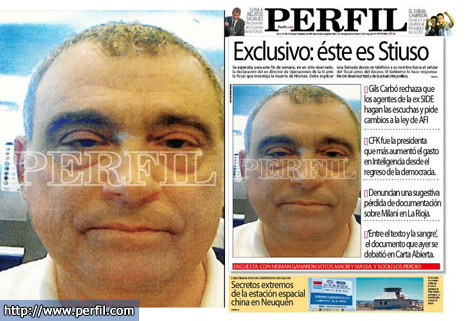 Silencing Stiuso forever is in the interests of many influential people and powerful organisations. Having shared his apprehensions with his inner circle more than once, the former Argentine intelligence chief is experiencing a sense of impending doom.