South of Peru.
Desert Nazca, nature reserve Paracas and extreme in dunes.
Photo-report by D. Nazarov (2005)

» South of Peru » North of Peru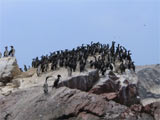 On the way to the desert Nazca it is worth while coming to the Paracas peninsula. It is a natural reserve, famous for its guano isles.

Maybe not everybody knows what is «guano»? Guano is accordant to the Russian word product of birds' life activity that live at small isles in huge colonies. Just enormous colonies!!! White from «guano», the isles seem black because of unthinkable quantity of birds. In brief, this «guano» is collected once in 4-5 years and is used as valuable fertiliser.

Of course it is interesting to look at it, but difficult to breathe. And people live there!!! Just few reserve keepers.



We reached the isles in a flimsy motor-boat, that all the time seemed to try to stall or overturn. But all unpleasant feelings were smoothed over by absolutely charming sea lions, to be more exact, by lionesses, that practically all the way used to follow us – whether it was curiosity or expectation of some treat from us. Lions, as it is proper for real machos, proudly and idly used to lie on the rocks, paying no attention to us.
We have also seen penguins there.
Apart rich fauna you can admire the view of the famous «Candelabrum» - huge picture at the shore, the origin and nature of which is not very clear. The most popular version – is a «road sign» for pirates.
Desert Nazca is a territory of 500 square kilometers covered by a big, up to 300 meters long figures of people and animals, lines, spirals and geometric figures. And all those miracles were revealed by modern people only at the beginning of the XX century, when aircraft started to fly above Peru. All these figures cannot be seen from the ground surface.



Unforgettable impressions! Our aircraft was a miniature «Cessna». If it were going straight all the way – it could be endured, but the pilot, who wanted to show off , made unbelievable banks, demonstrating pictures of the desert Nazca form left or right, at one or another angle.

Nazca figures – is absolutely unique and unexplained till now work of men or ... Some people think that all this – is an extraterrestrial creative work or some very powerful but forgotten by humanity civilisation. Others state that such art can be made by primitive South American Indians – it was slaves who built pyramids in ancient Egypt.

Few clarifications.
The airways company that flies over Nazco is: www.aeroica.net



We started off from the Nazca city airport, as, first of all, it is cheaper than from Ica, secondly, we stopped at the hotel that is available at the site. The hotel is just 20 meters away opposite the airport. It is better to fly in the morning on an empty stomach (to better withstand flight banks). I advise, you should first fly at 7 am, and then have breakfast. But in any case, if your vestibular apparatus is different from the one of astronauts, you'd better take a pill for naupathia. Tariff is given at the site – 50 dollars per person. But if you stay at the hotel – they charge 40 dollars, and airport tax is 10 soles (about 3 dollars).

Oh, but you should make a hotel reservation in advance, as there is always a lot of tourists there. Living conditions are not bad and it is inexpensive. Three-man room with breakfast cost us 45 dollars.

After Nazca we started to the town of Ica, which, in fact, is an oasis in the desert. But this is a different from rocky Nazca desert, it is sandy, with dunes. According to the Peruvians, the highest in the world dune is located in Ica. And here we used to rush about these sand mountains over 100 meters high on «buggies»! Roller coaster is not a match at all! Buggie is something like open jeeps with big wheels to ride on sand. And they also use boards to slide down the dunes. It is a «national» sport among the local population: everybody – young and old slide down the sand mountains.


» North of Peru. Bloodthirsty mochicas, builders chimu and wise incas.