Lopez Obrador – the future Mexican president?
March 29, 2005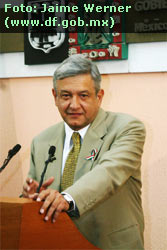 Many political scientists-specialists on international affairs ask this question to themselves. And they even give a positive reply: "Yes, he can become a president, if he is not hindered". Who can hinder Andres Manuel Lopez Obrador, the present alcalde of Mexico, leader of leftist-centrist Party of democratic revolution (Partido de Revolucion Democratica – PRD)?

According to Obrador himself, he thinks, that the ruling president of Mexico Vicente Fox, who through the controlled by him Prosecutor General office, is trying to deprive the alcalde of powerful authorities and subject him to criminal proceedings.

Has Obrador committed any crime? To all appearances, - yes, as, despite the valid restraining order, he allowed construction of highway through the vacant lands.

How serious is the offense of Obrador? According to Mexican press, now there are at least 3000 sluggish cases, connected with "ignoring restraining orders" in the country. That is why, Obrador himself, his numerous followers and many millions of non-party Mexicans doubt whether there is a political implication in the actions of the Prosecutor General office? Do the opponents of Obrador try to "deduce him from the game" of run for the presidential chair?

Many a time, Obrador used to publicly accuse president Fox in resorting to "dirty technologies" and declared, that he would carry out his election campaign under any conditions, including from the prison cell.

Even now, when the elections, which are to be held in July 2006, are quite far away, Obrador possesses substantial advantage over his rivals from the Party of National Action (Partido Accion Nacional – PAN) and Revolutionary Institutional Party (Partido Revolucionario Institucional - PRI). 38 – 40% of those polled are going to vote for the militant alcalde with his closest rivals visibly lagging behind - their rate does not exceed 25-26%.

It often happens in politics, that the "victim of injustice" obtains massive support of the electorate. It is quite possible, that Obrador inwardly resolved to "martyrdom" and now he prepares the country public opinion for this by organizing marches of thousands and thousands in favor of his support. What will the victory of Obrador in Mexico mean? According to the conservative circles of the country – "triumph of populism and demagogy in Venezuelan style that will bring irreparable damage to the Mexican democracy". Obrador contradicts to these statements, pointing to the fact that, unlike Venezuelan president Hugo Chavez, he does not belong to the military, that he, Obrador, has always been close to workers, as a politician as well, and on this basis he is going to build up his social-educational program of reforms.

The struggle of critical declarations and reciprocal accusations continues. The US president George Bush declared in connection with this political intrigue, that he was ready to cooperate with any democratically elected Mexican president. In such a way, Obrador has good chances to visit Bush's rancho in Texas.