Paraguayan notes in Ñanduti style - page 4

K. Sapozhnikov

Pages: «« [1] [2] [3]

4

[5] »»
1998.In case of any reproductions, reference to the site
www.Tiwy.com
is a must
The town of Foz de Iguazu looks more respectable and decent than Ciudad del Este. And it is understandable: here comes a big portion of illegal money that is invested into construction, city infrastructure, show business. Order and tranquility reign at the Brazilian side, and tourist feels much safer, having crossed the Bridge of friendship into the country of the unforgettable slave Isaura.

Taken by the mini-van of "Lions Tour" in the company of elderly German and Japanese tourists I made an obligatory for the person that came to this area trip to the Brazilian-Paraguayan power station "Itaipu" and famous waterfalls cascade Iguazu that has been announced by UNESCO a "property of the humanity". Tourists here are a privileged public - no customs, no passport control. The most important is that the guests should not be greedy, and open their wallets more often and encourage the wide-spread system of tourist service with marks, yens and dollars.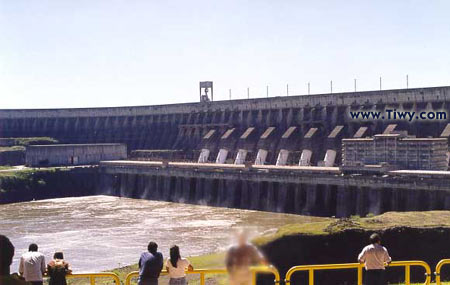 Brazilian-Paraguayan power station "Itaipu"
No matter how many times you could see the cascades of Iguazu at the postcards and films, seeing them with your own eyes strikes you. Dozens of waterfalls arranged in a "horseshoe", of 2700 meters long, with thundering noise drop from the height of 50-70 meters, showering the small groups of stunned tourists with water dust and foam. Rowdy beauty and power of Iguazu suppress and remind you about what destructive consequences we are threatened by natural disasters, if all these calamities that are predicted by ecologists-nostradamuses, will fall on the heads of humanity. This preserve is attractive by lush vegetation and exotic animals, the most friendly of which is, of course, a cutie coati, in appearance resembling a "hybrid" of fox and badger. Coatis dashed about the lane along the raging pot of Iguazu and offered their grey-beige backs: you can scratch and even stroke, señor tourist, but do not fail to treat to something tasty.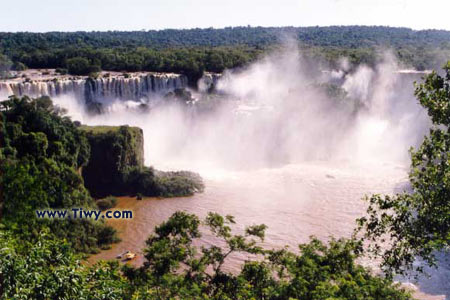 Iguazu
We should say that the Paraguayans often complain that their country does not possess extra-attractive for the tourists lures, even that Paraguay is just a "stopover" on the route to nature and other wonders of Brazil and Argentine. But on the territory of Paraguay another cascade – Sete Quedas used to roar and royally foam, it exceeded Iguazu in all parameters. Construction of the power station did away with Sete Quedas, and the Paraguayans are consoled by the fact that only 6-7% of the power will be sufficient for their own needs out of the "half" that is due to Paraguay and all the rest is sold "wholesale" to Brazil. The powerful neighbour, indeed, is not always very accurate in payments, and it often causes severe disputes in the Paraguayan mass media on the subject, whether Paraguay is a "power hostage" of Brazil.

But all the conflicts are solved amicably and successfully. Nowadays they speak more often about construction of the second Bridge of friendship – so big activity of human streams and borderline trade.

My next trip to the North of the country to Chaco did not prove to be very successful. We've been let down by rainstorms that fell not only upon Paraguay but on the plain territories of Argentine and Uruguay. Scheduled bus has not passed more than 200 km along the Transchaco highway (Ruta Transchaco) and was forced to return back to Asuncion. If it were not for precaution of the driver, who attentively listened to the weather reports and, to displeasure of some of the passengers, decided to interrupt the trip, we would have to cry "cuckoo" in muddy traps of Chaco. So my introduction to mennonite settlements and fort-towns at the North of Paraguay had to be postponed for future.

It is difficult to avoid talks about Stroessner in Paraguay. He is invisibly present everywhere. Practically all present politicians of the "Colorado" party "darted out of the sleeves" of his uniform of general. Monuments to Stroessner disappeared after military coup d'etat, but the seal of authoritarianism, put on the country and its residents, will be hard to remove in the nearest decades. Representatives of different branches of power try to act according to the democratic rules, but the signs of intolerance and distrust to each other from time to time come forth. Could Stroessner be right when he said that the country could be ruled by means of strong fist?

The general was lucky: he managed to get out of Paraguay alive. Having settled in one of his mansions in a hospitable Brazil, the elderly ex-dictator whiles away his days anxiously waiting for the news from the country, which he considered his big hacienda. He avoids talking about it, but people from his environment know very well: the general is waiting for the most important for him news – permission to come back home. It may be the only thing that supports his interest to life. To come back, breathe the air of the motherland, shed a tear and quietly die. None of his enemies was allowed to meet death at home, among the family. But this is the peculiar feature of dictators' mentality: justify the crimes by the highest state interests.

After bloody wars, military coups and political instability the "Stroessner epoch" is perceived by many people in Paraguay as some harmless "period of stagnation", when brave dissidents, revolutionaries and amateur conspirators lost their heads in the police paradise, created as per the drawings of the general, and the rest diligently praised the "Sovereign" and adapted to reigning in the country rules. One could live if he could stick to his last, did not stick out and did not resort to ungrounded carping. The main achievement of Stroessner is considered establishing order in the country, the residents of which, according to him, have always been disposed to nihilism and disobedience. "This is an incontrollable country, - he diligently repeats. - Let two or three Paraguayans get together and immediately they will start discord and then brawl. That is our nature, and it should be admitted. That is the reason why it is difficult to control this country".

Nostalgia for Stroessner times from time to time brakes through at present Paraguayans. "Of course, under Stroessner they also stole, but not at that scale as now", - complained a taxi driver, who was lifting me to the hotel. At that time something out of the dictator munificence fell intermittently to simple people, and at present the number of those who wish to put his spoon into a governmental pot has increased, it is crowded here, there is no time for charities. If Stroessner occasionally gave plots of land to peasants, under democracy there was nothing of this kind. All the territory of the country has been sold out and belongs to few rich families, who successfully farm it using modern agricultural machinery. Cultivation of soybean and corn for export does not require special efforts and a big number of workers. The village is poor now. Schools and medical points are not built any more. So the people are coming to the city, which has its own problems: unemployment reaching 28-30%, absence of cheap dwelling, high prices for food, growing crime rate as reflection of troubles in distribution of national income...

Similar problems are faced not only in Paraguay, and we know it...

---