Paraguayan notes in Ñanduti style - page 5

K. Sapozhnikov

Pages: «« [1] [2] [3] [4]

5
1998.In case of any reproductions, reference to the site
www.Tiwy.com
is a must
I have never left any country except Paraguay with so many souvenirs. My "federal reserve" of matreshkas, hohlomas and calendars dedicated to Moscow also melted very quickly.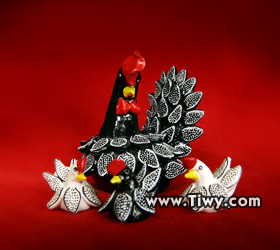 Every new acquaintance would certainly ask a question:

-You have bought a "lucky chicken" as a keepsake of Paraguay, haven't you?

I heard such a question from professional cameraman Victor Alvarez.

- At my very first day in Asuncion I bought two. Now I have a complete flock – black and white ones have been presented...

Alvarez laughed:
- Same is in life: black line of bad luck is replaced by a light sequence of good luck. You know it was me, who invented their modern design, the idea to colour the chicken occurred to me. Previously they did not have such a splendid look: things were made of burnt clay, grey-brown, plain, nobody paid any attention to them. And now – isn't it a lovely sight? Feathers are as luxuriant lace, scarlet combs, and each one has a unique appearance. It is not a shame to display such chicken at prestigious exhibitions. I wish I made a copyright for it in time. And now they say, colouring the birds is a folk tradition, going back to the depth of centuries...

The working day in Asuncion begins very early because of hot and humid climate. At six-seven in the morning the street life is in full swing. Brightly coloured buses fuss to and fro, silently move yellow taxis, and not some "KIA" or "Volkswagen" but "Mercedes". Taxi drivers prefer this car. At about after midday, serving and working people devote two-three hours to regenerating strength siesta, if there is a slightest chance to hide in shade and have a nap, wait through exhausting heat. Streets are rapidly becoming deserted, only occasional policemen in olive uniforms and multicolored, like paper wrappers, tourists turn up here and there. Then another peak of activity, and then massive departure to homes, to family hearth. In workdays, working, office and intellectual Asuncion goes to sleep long before the midnight.

Behind the hotel window - thinned out after tricks of "Niño" rows of century old trees, lines of street lights and underneath – sleepless seller of "hot dogs" and newspapers seller, who seems to sell not only newspapers. But is known only to him and his impatiently restless clients. Well, it is high time for me to look through the papers, scroll TV channels, feel the "tendency" of another day lived by the country. Probably, the similar interest also has the subtropical creature – little chameleon, resting on the ceiling right above me. It changed colour to the colour of the border, and only the beads of its eyes, glittering with curiosity, revealed its presence.

"Evening paper" of Asuncion is called "Ultima Hora" and its circulation is 50 thousand copies. According to general opinion this is the most open and progressive paper in the country, that pays much attention to putting forward and analysis of socio-political and economic issues. Political scientist Victor-Jacinto Flecha, having returned to Paraguay after long years of exile, wrote in one article: "The main problem, which we should deal with, is the choice of the road. It is essential to clarify, which social model we, the Paraguayans, want to build? After 1989 we have regular elections. But for which purpose, for the sake of which social project?".

After many years of bans and repressive measures, the official publication of the Paraguayan communist party "Adelante!" started to come out legally under the slogan: "Marxism is not a dogma, but guide to action". It is modestly published once in two-three weeks, has 16 pages of half the tabloid size. The issue that came into my hands was dedicated to celebration of another jubilee of the party. The communists of Paraguay received greetings from their comrades in Cuba, Argentine, Chile, Brazil and Vietnam. Greetings of their Russian companions-in-arms might have got lost somewhere on the way.

The chameleon rustled along the wall and found shelter in a gap under the air-conditioner.

Days in Paraguay passed very quickly and I was leaving the country with a feeling of regret: can you see much, understand and feel during a week in the new for you country? But even for this short period of time I liked its green hills, cosy tiling of towns and villages, unique neighbourhood of patriarchal and modern characters.

While leaving I made it a point in my mind to come back! After a year or two, but definitely come back! And may God grant success and prosperity to the Paraguayans, open and hospitable people that may seem to someone slightly provincial and slow in our age of globalisation and neo-liberal turbulence. But every foreigner, stranger - "forastero" feels in Paraguay at home. Quite often, more at home than in his own country.

Well, and meanwhile we shall live by memories: when in "mood" - listen to beautiful songs, performed by the "Paraguayan nightingales" - two beauty sisters Perla and Stella, look into the pictures taken during the warm rain at Asuncion streets or at a slow ferry across Parana, and – of course! - sip through the patterned silver tube – bombillo - richly brewed "Paraguayan tea".

"Yerba mate effect " that is how you can call the action of that delicious drink to the condition of your heart and soul. Two or three sips, and a faint smile appears on your lips, you relax and start contemplate at the world around you, more generously accept its drawbacks as well as your own, if, of course, there are any. And what is most important, you start to understand Paraguay and the Paraguayans better.

---