Tapati-Rapa Nui festival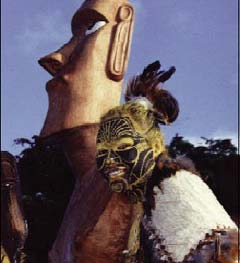 Folklore festival Tapati-Rapa Nui that annually takes place at the Easter Island from middle of January to mid-February, gathers dance and music groups both of the islanders and the Tahitians.

The festival program, as a rule, includes contests of musical and dance groups, and obligatory selection of the Queen.

Traditionally three groups of pascuano-islanders: "Polinesico","Kori-Kori" and "Haro Repa" take place in the festival. The Tahiti island this time sent the group "Tahitiano". The Home Minister himself joined the "support group" of his fellow countrymen.

Selection of the Queen has the nature of a "family competition". The contender, who has the most chances to win, must be not only pretty but possess hard-working relatives. If they catch most of the fish and weave the longest cloth, the victory is guaranteed. Beauty only will not give complete satisfaction.

The islanders are not very much keen on advertising themselves at the Chilean continent, though they admit, that this festival for them is no less significant than at the continent – September 18, National holiday of Chile. Simply the Chilean TV channels ask for too much money for broadcasting from the Easter Island – they view it as the "advertisement of the island tourist sights".