Myshkin town, Yaroslavl region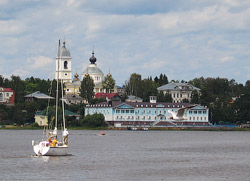 He who comes to Myshkin once dreams of getting there back again. The town charms once and for ever. We have been visiting Myshkin for twenty years already and we can say that we have made good friends with it. And each time we can see: Myshkin and its townsmen won't give up! The town and its dwellers struggle hard for a decent place in this changing world. Townsmen of Myshkin are a united team.

No one would dispute that "Myshkin is not always shown on a general map". That is how the matter stands: the town is located on a high steep bank of Volga river, it is not big and in its best time (Soviet era) the population did not exceed 6,500 people. For centuries Myshkin inhabitants struggled for the right to call it a town. In annals and chronicles Myshkin was first referred to as a "settlement" or a "village", later as a "suburb", for some period of time it was called a "settlement of urban type" with neglect. Only in 1991 Myshkin became a town and its inhabitants became townsmen.

The legend traces the name of the town back to a terrible story that happened to one of Russian princes. Being tired from the trip he decided to have a nap in his luxurious pavilion on a high bank of Volga river. He woke up because of a restless mouse that was scampering over his face. Of course his highness prince was outraged with such impudence! How dare this jug-eared tiny creature interrupt his slumber! And there he got it: the brave mouse was trying to warn him of a mortal peril. A few big vipers were going to attack him in a most mean way. Reaction of the prince was like a lightning. He hammered the poisonous snakes with his mace. Having understood that he has just escaped certain death he told his men to keep safe the mice living in that region.