The Memorial to 1200 guardsmen
This material is added after the second trip to Kaliningrad in 2011, a year after the first visit in 2010.

The memorial complex in honor of the 11th Army soldiers, killed in the assault of Koenigsberg, is impressive on the Guards avenue (Gvardeiskiy prospekt) away from busy streets.

For many years, as I was told, it was a sacred place for every resident of Kaliningrad. As before, thousands of residents of Kaliningrad used to come here on April 9 to lay wreaths. But earlier, all the guests of the city were first taken to the Memorial to 1200, to pay tribute to the fallen in World War II, to stand in silence at the Eternal flame, to lay flowers. Today residents of Kaliningrad are more carried away by the German history of the city, the guidebooks give a very brief account of monuments to the fallen in the assault of the city. If it is written at all. It so happened that I personally happened to find out about this memorial quite by accident!

The Memorial, where 1,200 soldiers are buried (it is assumed that a lot more are buried there), is famous for being the country's first memorial dedicated to the fallen in the war against fascism. The initiative to create the monument belonged to the Military Council of the 11th Army. The guardsmen warriors erected that memorial in memory of their fellow soldiers. Many of those, whom the 11th army lost in battles in the East Prussia, have been reburied here. And as early as in September 1945 the memorial was opened in its original form. Later, the sculptural groups "Assault" and "Victory" were added to the Memorial.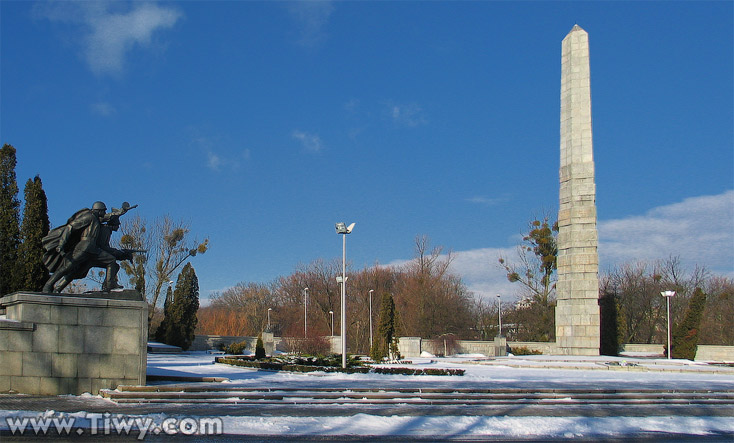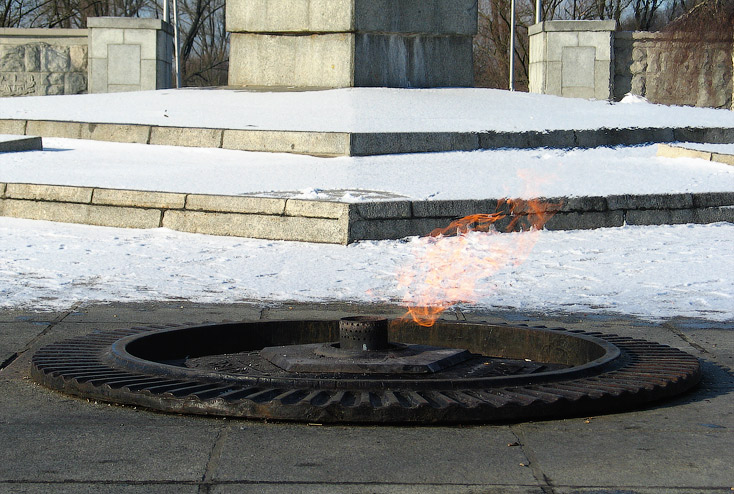 The memorial square is bordered with a low granite wall, which houses the bas-reliefs and marble plaques with the names of those buried here. Along the wall there are four marble gravestones, which have also the carved names of the buried soldiers. On pedestals at the wall there towers the bust of the hero of the Soviet Union - an artillery colonel Sergey Ivanovich Poletsky and Major-General Stepan Savelevich Guryev, died while taking Pillau (Baltiysk). At the walls there are also two small obelisks in honor of the Heroes of the Soviet Union guards-major Anatoly Andreyevich Sergeyev and nurse Elena Kovalchuk, who died and were buried on the approaches to the East Prussia.

In 1995 the Orthodox chapel was erected near the monument, and behind the Memorial the creation of Victory Park began.