Kaifeng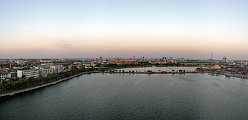 The city of Kaifeng

(开封 - Kāifēng)

is situated in 70 km to the east from Zhengzhou, administrative center of the Henan province. All guidebooks say that the population of Kaifeng is 4.7 million people. And only some of them add that the minority of the population — 800 thousand dwell in the city, whereas the rest — are rural residents, living somewhere nearby.

I want to tell you at once that I liked the city and I'm sorry that I spent there only one day.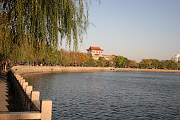 The date of the city foundation is thought to be 364 B.C. Then the city was called Daliang and was a capital of the Wei kingdom. Since then Kaifeng used to become a capital several times, but last time it was in 1368, when it became a capital of the Henan province.

The most prosperous the city was in the XI century. Then it was called Bianliang, and it is now thought to be the most populated city in the world at that time — 600 — 700 thousand people, until 1127 when the Jurchen nation from the northern state Jin destroyed and plundered it. However, 30 years after, the rulers of Jin started to build here the «southern capital».

In addition to wars, diseases and plunder the city was flooded many times by the Huang He river, which caused destruction and death of thousands and even hundreds of thousands of residents.