Three Beijing railway stations
October-November 2008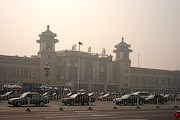 There are more than three railway stations in Beijing, but I have visited three of them. But almost all pictures remained in photobank, which was broken.

First I started to the Central railway station of Beijing, and to tell the truth, was slightly shocked because of the hive in front of the station. By the way it was the only railway station of all I was present in China, where even to get to the booking offices one had to X-ray the bag. Although you don't have to come inside, as some of the booking offices are located outside.

There is a vegetarian restaurant across the road along the right overhead crossing (if you stay with your back to the station). Has anybody been there?

I would like to mention that although the lines to the booking offices (not tourist ones) for train tickets are long, but they move rather fast.

I started for train tickets to Zhengzhou to the Western railway station of Beijing. Over there, in the booking offices for foreigners I quickly bought a ticket. Though I made a mistake — I didn't tell that I need a 1st class ticket. Because of this I had to sit in a narrow seat (it's OK) and next to a by far not very pleasant passenger. Besides I could hardly find a vacant space above to put my suitcase. I was lucky to have a window seat in the row with 2 seats (in the 2nd class there are 2 seats on one side and 3 — from the other side).

By the way, it is 689 km to Zhengzhou. The CRH train rushed me there for only 5 hours. Praise Chinese speedy railroad.

I remind that train schedule and prices are easy to see at this site: http://www.travelchinaguide.com/china-trains/

I also returned from Jinan to the Beijing Southern railway station in the 2nd class carriage, but with a normal neighbour in the next seat. And there was sufficient space for everybody's luggage on the racks above. The Beijing Southern railway station has recently been built and looks quite modern. There was no line to the booking offices! It was difficult to find a taxi stand if you follow the signs. Automated Teller Machines did not function.