Museum complex «old administration» of Kaifengfu
October-November 2008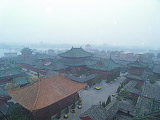 It was Kaifengfu but not Kaifeng that was the name of the city then. «Fu», very neatly, in Chinese means «government».

More details about this museum complex you my read here:
http://russian.cri.cn/1001/2008/11/21/1s265584.htm (in Russian).

And this is the official site of the museum: http://www.kaifengfu.cn

Button to the right, as it turned out, is the link to the English version of the site, and which, due to some reasons, was written in hieroglyphs and, which does not exist there at all.

Right under this line you may watch a video from the performance shown to the visitors of the museum, and a little bit below — 6 remaining with me pictures of the «old administration».
Yes, this «old administration» is situated near the hotel Jinyuan Kaiyue in which I stayed.