Huashan Mountain (华山 - Huàshān), Shaanxi Province





Rem Sapozhnikov

/ April 2014



Huashan Mountain is one of the most beautiful mountains in China. It is very popular among tourists because it is easy to reach. There are several ways of various complexity to climb to the mountain. One of the meanings of Hua hieroglyph (华) is "flowery". That is why in English the mountain may be called Flowery Mountain. Such a name is related to the fact that the peaks of Huashan bear a pleasant resemblance to a bloomed Lotus flower.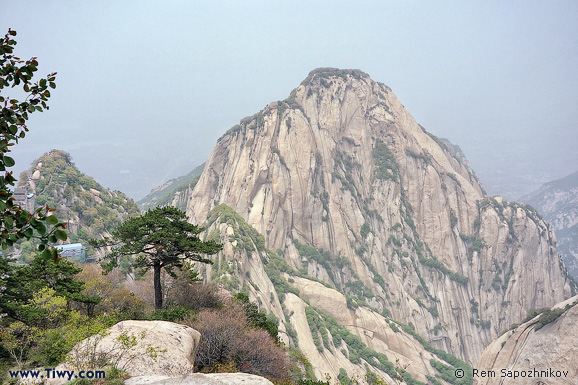 Many tourists don't yet know that since April 1, 2013 the new cable car coming almost up to West Peak has been launched. It helps to reach South and East Peaks much easier.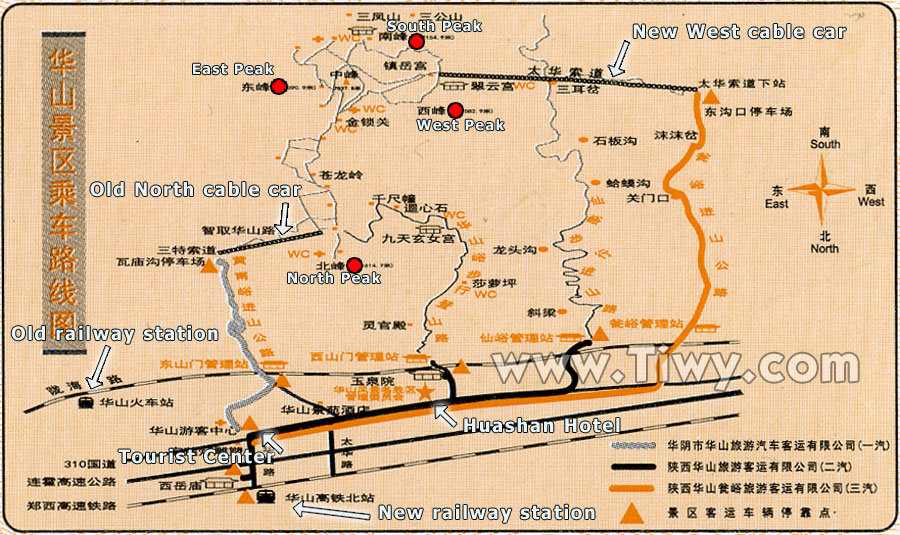 On this map, I marked the main tourist attractions that are mentioned in my photoreport. From Huashan Hotel I walked to the Tourist Center. Then I went by bus to the lower station of the West cable car (it is marked with a heavy orange line on the map). I ascended Huashan Mountain using the ropeway, visited three highest peaks - West (2 086 m), South (2 155 m) and East (2 096 m). After that I walked down to the lowest North peak (1 615 m) alongside of which the upper station of the North cable car is situated. With the help of the cable road, I went down and came back to the Tourist Center by bus. My circular trip from and to the Tourist Center took 7 hours.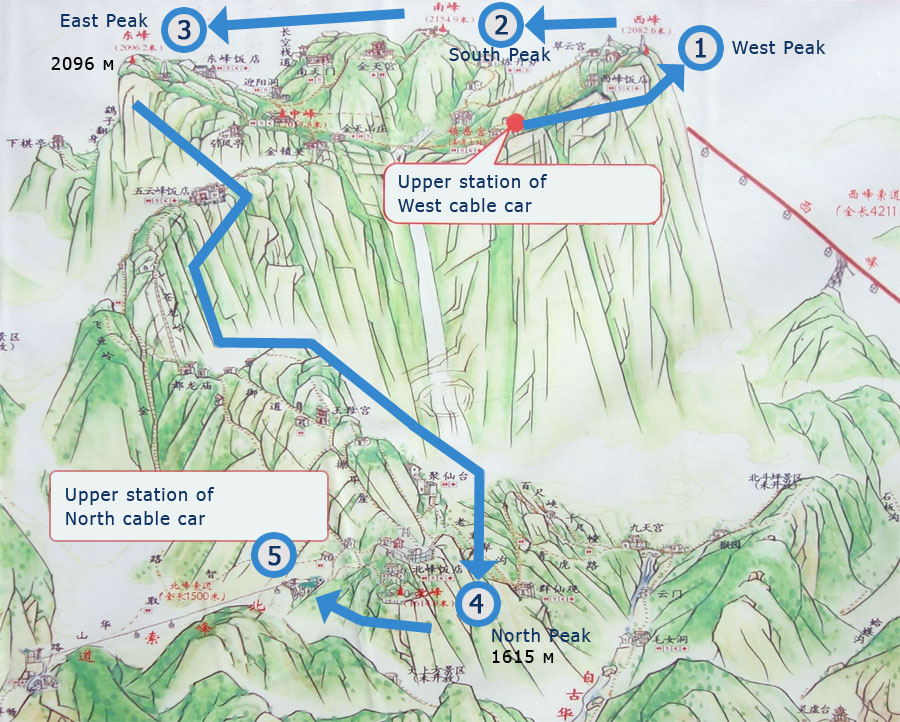 I marked my route through Huashan peaks on the map. The proposed route is interesting because there is no need to climb 500 m up from North Peak. Of course, in any case, it is necessary to step up but this way takes less time. It will provide you with the opportunity to spare strength, any way climbing to the mount will not be an easy matter. If you want to visit all the peaks of the Flower Mountain you may also add Central Peak to your itinerary. It is better to include it in your route on the way from East to North Peak.
It must be mentioned that to climb to the Huashan is a kind of an expensive amusement.

Entrance ticket: 180 yuan
Bus to West cable car station: 40 yuan
Ascent by the West (new) cable car: 140 yuan
Descent by the North (old) cable car: 80 yuan
Bus from North cable car station: 20 yuan

Total: 460 yuan (2714 roubles or 74.5 USD)
Even if you decide to go up and down only by the North cable car the total price will be 380 yuans. Of course there is also the cheapest option for the strongest people to go up and down on foot. In this case you need to pay only for the entrance ticket - 180 yuan.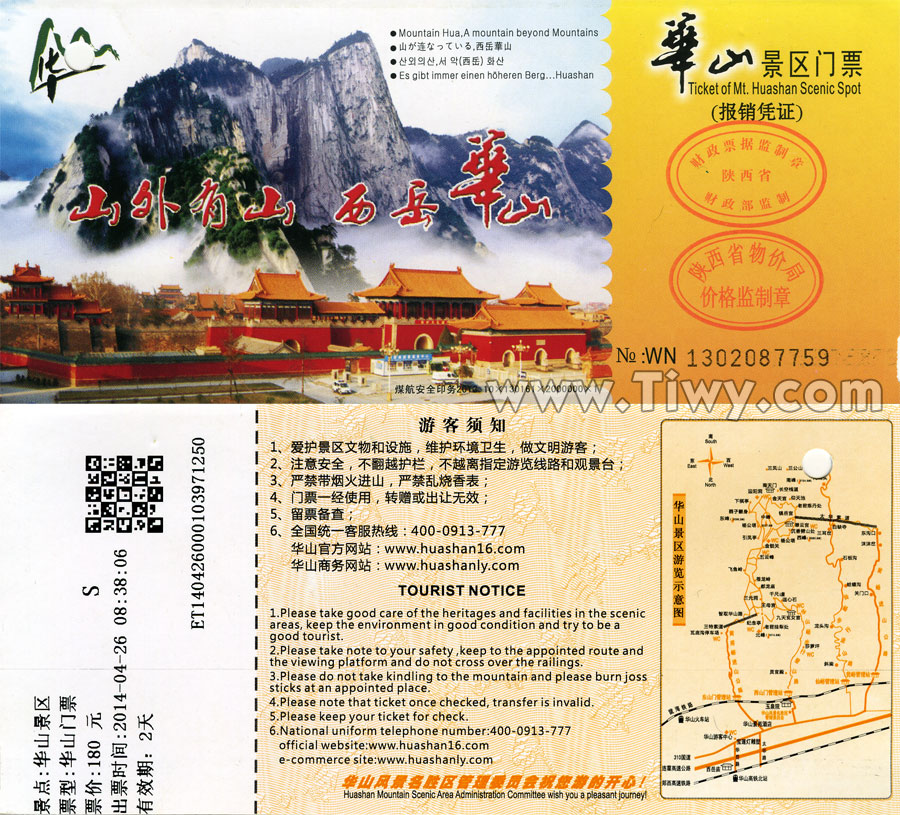 Entrance ticket to Huashan Mountain. Price 180 yuan (1062 roubles or 29 USD).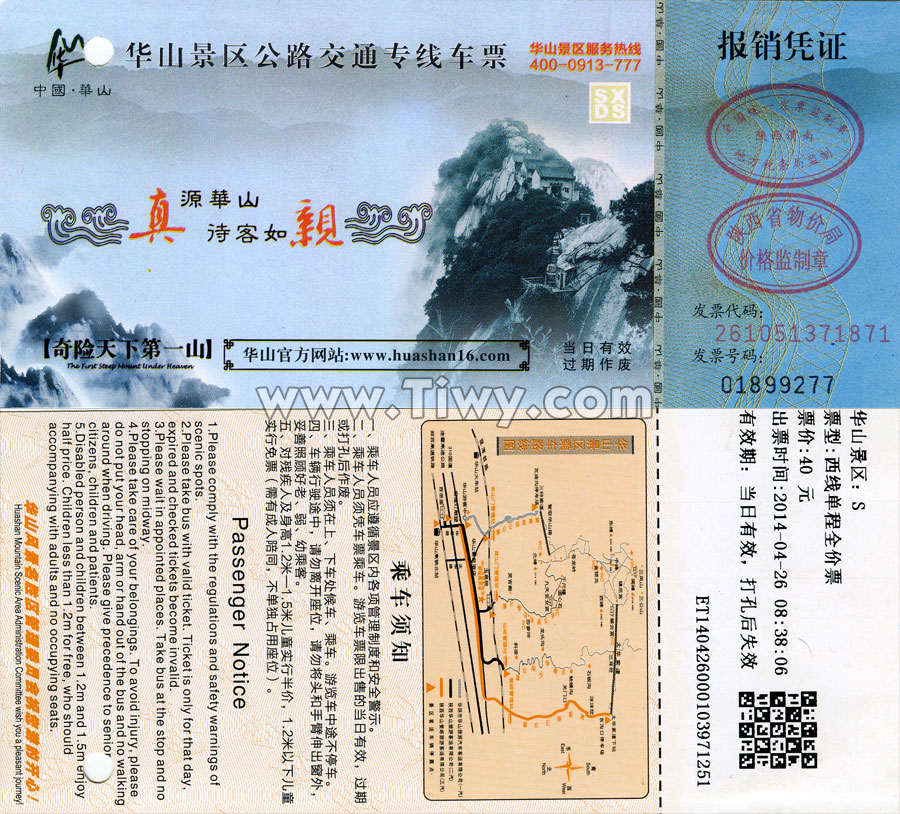 Ticket for the bus to West cable car station. Price 40 yuan (236 roubles or 6.5 USD).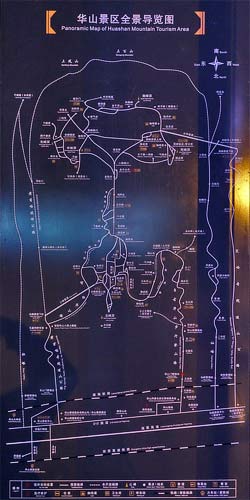 Another map of Huashan Mountain. Click on the photo for a closer view.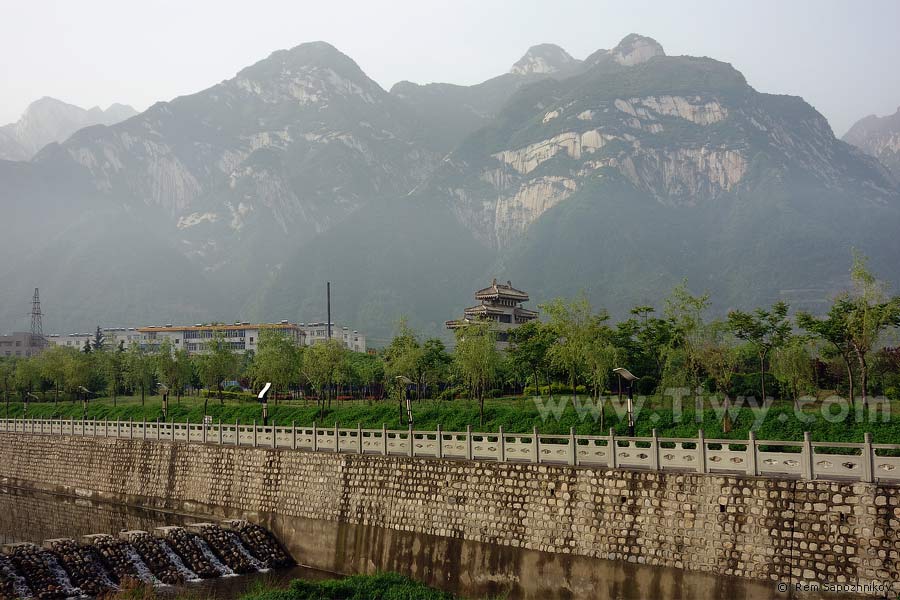 View to Huashan Mountain on the way from Huashan Hotel to Huashan Tourist Center. Ha-ha.
Continuation of the story >>>>>
Huashan Tourist Center
---