Longmen Grottoes (龙门石窟 - Lóngmén shíkū)
Longmen Grottoes, Dragon's Gate in translation, is the most known tourist sight of the city of Luoyang. It represents the limestone rock with 2345 grottoes and niches which were carved on its slope, as well as tens of thousands of reliefs and statues of Buddha and other religious figures. Creation of the grottoes began in 493 AD, after the capital was moved to Luoyang from Datong city. By the way, in Datong city are situated the Yungang Grottoes, which can be called grottoes-predecessors, created in the period from 460 for 525 AD. Longmen Grottoes, Yungang Grottoes (Shanxi Province) and Mogao Grottoes (Gansu Province) are included by UNESCO to the list of World Heritage Sites. Most of the works in the Longmen Grottoes were created in the VI and VII centuries AD during the reign of Northern Wei and Tang dynasties.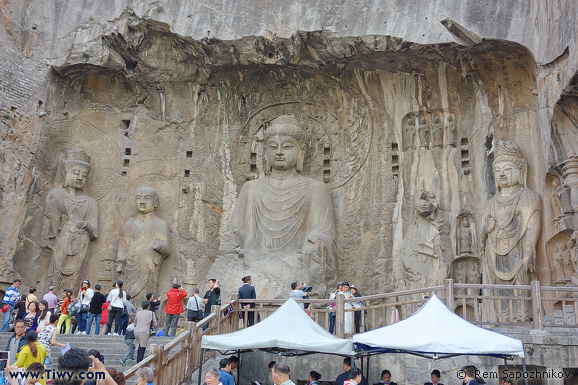 Typically in guide books is written that the grottoes are located to the south of Luoyang in 12-15 km, but if we consider a distance from the new railway station for high speed trains, then in 5 km.