Twin Pagoda Temple (双塔寺 - Shūangtǎsì or 永祚寺 - Yǒngzuòsì)
The first thing after coming and settling in Taiyuan hotel, I decided to go and see one of the most famous symbols of the city – the Twin Pagoda Temple. The temple is actually called Yongzuo

(永祚寺 - Yǒngzuòsì)

, but since it is the two graceful Twin Pagodas, which attract attention, it is more commonly called the Twin Pagoda Temple or Shuangtasi

(双塔寺 - Shūangtǎsì)

.

Since, according to the map, the Pagodas were within a walking distance from the railway station in the south-east direction, I started on foot to see them. At the same time on my way, I looked the eastern, in reference to the railway, part of the city.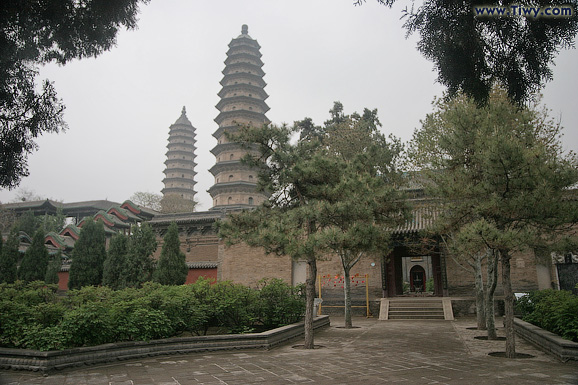 The Twin Pagodas are about 400 years. The East Pagoda is called Wenfengta

(文峰塔 - Wénfēngtǎ)

, and was built in 1599. The West Pagoda – Xuanwenta

(宣文塔 - Xuānwéntǎ)

– was built in 1612. Wenfengta and Xuanwenta are the highest Twin Pagodas in China. Each of them has 13 floors, and is about 54 meters high. They are built of brick and stone. Interestingly, the East Pagoda began to lean in the XX century, but in 1995 they managed to align it. The West Pagoda is open for visits. One can climb to the top floor on a narrow steep spiral staircase at no extra charge. And I did it.