Jinci Temple (晋祠 - Jìncí)
Jinci Temple is a park and architectural complex, formed in different periods of time, which united variety of buildings in its walls. The place is very popular among the Chinese and is considered a must to visit by everyone, who came to Taiyuan. Jinci is located approximately 25 km to the south-west from Taiyuan at the foot of the Xuanwengshan mountain

(悬瓮山 - Xuánwèngshān)

. It is said that the Jinshui river

(晋水 - Jìnshuǐ)

originates here, but I could not find it anywhere nearby on the map.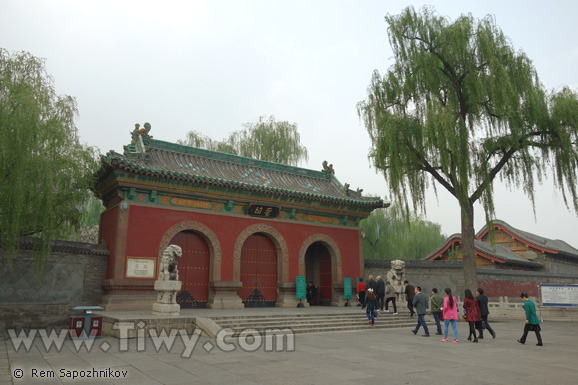 Initially, the temple was called Tangshuyuci

(唐叔虞祠 - tángshūyúcí)

, as it was built in honor of Prince Tang Shu Yu. It was about 1000 years BC. Tang Shu Yu actively developed agriculture in these lands, also he used water for irrigation from the Jinshui river.

In honor

of this river, which brought prosperity, the son of Shu Yu, in name Houxie

(晋侯燮 - Jìnhóuxiè)

, after his father's death, renamed their lands and the name of the dynasty from Tan

(唐)

to Jin

(晋)

. At some point, it was also decided to rename the temple. It was named by the new name of the dynasty – "Temple in honor of the Jin governor", i.e. Jin

wang

ci

(晋王祠 - jìnwángcí)

. Later the name was more simplified by removing the hieroglyph

wang

(prince,ruler -

王

). And there appeared the current name of the temple – Jinci.