Cable car through the Yangtze
October 2011

In Chongqing there are two cable cars across the river: one through the Yangtze of 1116 m in length, running from 1987, and the other through the Jialing, of 740 m long, which had served for 29 years since January 1, 1982 to February 2011. Now there is only one cable car through the Yangtze, in August 2011 it had gone a major overhaul.

Tickets cost 5 yuans (25 roub/$ 0.8).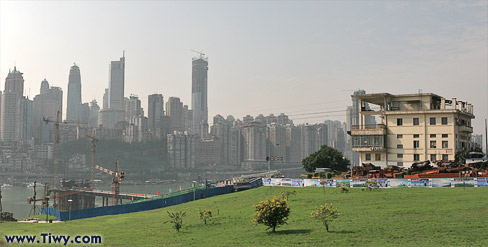 The second cable car across the river Jialing, is not working now. Given the nearby construction of a new bridge Qiansimen

(千斯门 - Qiānsīmén)

, a large-scale construction of a fashionable neighborhood on the north side of the river Jialing, and that the only remaining old building there, is the building of the cable car, one of the essential characters of Chongqing, I hope it will again please the residents and tourists.