Preparation





Rem Sapozhnikov

/ October 2011





That is my choice to fly to China this time



Since the trip was not the first one, during the preparation most of all I was interested in a convenient flight to Chongqing. By the autumn of 2011 the number of air routes to China has been quite varied, but using all of them you should first with the change or without it, reach Beijing, Shanghai or Hong-Kong and then make one more flight to Chongqing, which is very long and uncomfortable.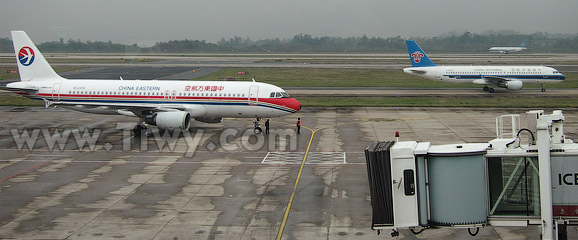 Fortunately, there is an airline China Southern Airlines, which has chosen a very thought-out strategy, making the city of Urumqi (Wūlǔmùqí - 乌鲁木齐) as their outpost in Northwest China. Travelers arriving from the former Soviet expanse, from Baku, Ashgabat, Almaty, Bishkek, Tbilisi, and Russian cities of Novosibirsk (1.5 hr) and Moscow (5 hrs), change there and then using a direct flight, perhaps with a stopover, go to almost all major cities in China.

In the case of Chongqing the convenience was evident. Departure is in the evening at 22:15 from Moscow, flight 5 hrs. Change in Urumqi (follow the link page with some photos from the airport), time between flights 1 hr 45 min. And one more flight to Chongqing 3 hrs 20 min.

The road turns almost straight. It was impossible to fly faster and more accurately. Time of arrival in Chongqing and departure was also convenient. You arrive early in the afternoon local time; it is convenient to check in the hotel. Departure is at 12:20 am – no need to get up at the crack of dawn or check out from the hotel and spend half a day in the middle of nowhere.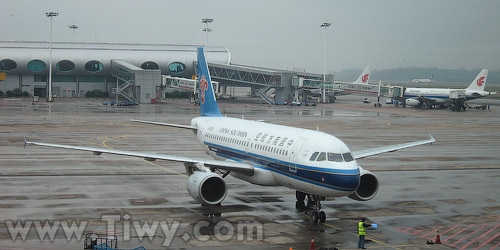 The advantages of China Southern Airlines may include reasonable ticket prices.

The disadvantages in China Southern Airlines also exist, they relate to the on-board service. What I did not like that in 4 legs of my trip they only once brought the vegetarian food that I'd ordered during purchasing tickets. In addition, during the flight Moscow-Urumqi the team of stewards was tired the heart out, and did not ask Russian passengers at all, unlike the Chinese ones, what they would like to eat: chicken or beef, and just quietly gave out the food. In the remaining three flights the stewards and stewardesses radiated joy and with a smile suffered half-drunk pranks of some Russian citizens, whom, on circumstantial evidence, I ranked to auto journalists.

I bought a ticket at the site www.trip.ru, because of all the sites that I looked through, I liked it most, especially their range of air fares.



Books



Despite the widespread availability of the internet, it's good to have with you some kind of paper prompt. The travel guide for China of "Vokrug Sveta" publishers, with which I traveled in 2008, the whole province Guizhou was only described on 5 pages. There was a little bit more information about Chongqing.

It turned out that there are almost no books in English or Russian solely devoted to the province of Guizhou. In the end, I chose and bought 2 books.

The first book is called Guizhou Province, by Gina Corrigan, I ordered it on eBay. The book was well published and illustrated; it can serve both as a travel guide, and tell about the customs, culture and arts of ethnic minorities of province Guizhou. The problem with the book is that the latest second edition is dated 2002, i.e. it is 9 years old. And, for example, guided by a map of the city of Kaili in this book, I, after arriving there, went to study the situation and look for the bus station, which I couldn't find at the specified location. The search in the Internet from the hotel showed quite a different location of the bus station. It turns out that either the map in the book is obsolete, or originally there was a mistake.

The second book is called "In the South-West China" by Victor Larin, Science Publishers (Nauka), 1990. The book is well written, easy to read, there are insertions with b/w and color photos. Part of the story has exactly been devoted to the province of Guizhou. As if I read the notes of the traveler-blogger of 20 years old :).

For those who do not know, the largest Russian online second-hand bookshop can be found at www.alib.ru



Useful sites



I look now for the schedule of trains on the Chinese railways at the site http://www.cnvol.com
Database on this site is regularly updated, there is a version for mobile devices and map of the railways.

Just like the last time, I obtained the visa at Quinta-Tour: http://www.quinta.ru
Insurance, too, like the last time, in ROSNO: http://eshop.rosno.ru
And once again I booked the hotel on the site eLong http://www.elong.net

Magazeta is the site about China, which is always interesting to visit:
http://magazeta.com

A few other links:
http://maximus101.livejournal.com
http://igor-cooking.livejournal.com
http://alimov.pvost.org



Sites in English:



http://www.foreignercn.com - Especially, I like that they additionally give names in pinyin and hieroglyphs
http://www.chinasmack.com - The yellow press
http://www.travelchinaguide.com - There is always useful information for travelers
http://www.chinahighlights.com - Similar to the previous site, only the pictures are fewer
http://wikitravel.org/en/China - Selection of a variety of useful information about China
http://www.4thmedia.org/ - International News
http://maps.google.com/maps?q=China - Map of China on Google Maps



The Chinese language



Now I know that the phrase-book, with which I travelled last time, is a complete trash. Do not buy phrase-books, where there is no transcription in pinyin (with tones of course). The question of why the last time the Chinese did not understand me, now seems absolutely absurd.

Official site of the program Fluenz Mandarin. With this program, you won't learn Chinese to perfection, but you will definitely get a strong impetus to study the language and initial language skills to overcome the language barrier.
http://www.fluenz.com

Online dictionary with a good plugin for FireFox
http://nciku.com

With this page you can quickly and easily learn to count in Chinese
http://hua.umf.maine.edu/Chinese/games/numbers/chinese/


---