Zunyi Railway Station
October 2011

My arrival in Zunyi was pretty funny. I forgot to write down the hotel name and address on a piece of paper, and taking the netbook out of the bag, with an open on the screen email confirming my reservation, I accidentally turned it off, with that, I had no saved copy. But do not think that I was ill prepared, I knew where my hotel was, and if it were not for the luggage and exhausting heat, I would have easily reached the hotel on foot for 15 minutes.

Taxis, unfortunately, were few, and those that were, already carried passengers. In Zunyi it is not a problem to take fellow passenger in a taxi. The problem was to explain with my meager vocabulary that I do not know the name and address, but I can show you where to go.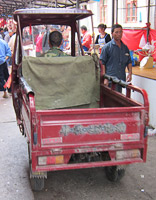 Several taxi drivers left, having failed to understand anything, but motorized taxi drivers got interested in me. These are motorbikes with a cabin for one person, where, as it turned out, with difficulty, two can be accommodated and open or closed hood behind. Oddly enough, but the motor-driver understood me or, perhaps, was imbued with sympathy, but opened his mouth wide for 10 yuans, instead of 5 on a normal taxi. One has to pay for exoticism. Having thrown the suitcase in the back and shrinking in the cabin, so as not to interfere with the driver to steer, at a speed slightly faster than walking, about 15 km/hour, I went to the hotel Guangdian.

The railway station, waiting room, platform, station square and the street leading to the railway station, look like this: